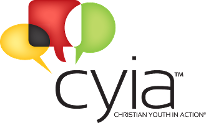 What is Christian Youth in Action?
CYIA EXISTS TO:
Develop LEADERS by challenging students to GROW in their relationship with Jesus.
And to TRAIN and equip them to share the GOSPEL with children in their community.
What does a CYIA summer look like?
PRE-CYIA (JAN-MAY)

Register for CYIA

Pick up study materials

Complete pre-CYIA exercises and homework

Watch/study the pre-CYIA curriculum study videos
CYIA (WEEK OF TRAINING)
Learn the Wordless book

Explore 5-Day Club leadership concepts

Practice lessons, receive coaching

Demonstrate ability in leading a 5-Day Club
POST-CYIA (JUNE-AUGUST)
Commit to teach at least four clubs

Connect with your CEF chapter director

Connect with your 5DC team

Share the Gospel in your community
COMING sUMMER 2024
LEADERS
CYIA is an intense training program. It's designed for those who want to be developed into Christian leaders. The leadership skills developed at CYIA can be used in all of life.
GROW
Spiritual growth comes as a result of being challenged in your faith. CYIA students are stretched in a safe environment. They are able to explore their faith in a powerful way.
TRAIN & EQUIP
The CYIA training is full of classes, coaching, small group discussions, practicing and passing practicums. By the end of the week, they will be equipped to share the Gospel in the context of a 5-Day Club.
GOSPEL
CYIA begins and ends with the Gospel. Starting with the first day of classes, each track explores the Gospel in a different way. Every student will be involved in sharing the Gospel during their summer.
CYIA Location
TBD
How do I Register?
Step 1: The CYIA 2023 Application -The application covers your personal testimony, prayer partners, CYIA experience expectations and summer ministry information.
Step 2: CYIA 2023 Handbook - The CYIA 2023 handbook is a guide for what you should expect to experience during the week of training. It contains important policies designed to enhance your training. It covers schedules, what coaching, and practicums are like, clothing guidelines, guy/girl relationships during CYIA and technology use. Before submitting your application, you will need to download this handbook, read and agree to abiding by its policies during the weeklong CYIA training and during 5DC summer ministry.
Step 3: CYIA Statement of Faith - During the application process, everyone must read and sign the statement of faith.
Step 4: Workers Compliance Agreement
Step 5: Medical Release - In the case of an emergency, it is important for CYIA staff to be able to get medical attention to the students.
Step 6: Child Protection Policy -CEF maintains high standards concerning the protection of children at our clubs. Every student must read, understand and listen to the Child Protection Policy by calling 1-866-878-4182 or view video. Child Protection - Child Evangelism Fellowship (cefonline.com)
Step7: CYIA Deposit - The costs for each CYIA training are detailed in the application. In order to complete your registration, the $50.00 deposit must be submitted. If you would like to give the deposit through credit card, visit our Donate page and choose CYIA Deposit or mail check to CEF Northshore at P. O. Box 5312, Slidell, LA 70469. Donations given for CYIA are not tax-deductible.
*Online Giving Note: Include your student's name in the memo line.
The CYIA Student Financial Support Missionary Program
If you are over 14 years old or older, you are eligible to enter the CYIA Student Financial Support Missionary Program. This program allows you to receive a modest cash support per club you complete during the summer. It is designed to help defray basic costs associated with the 5DC program during the summer months. Some of these are gas costs, vehicle maintenance costs and replacement of other potential income students may rely on during the summer months.
WHAT DOES THE PROCESS LOOK LIKE?
APPLICATION FORM: After you receive your CYIA acceptance notification, you can fill out the online application for the CYIA Student Financial Support Missionary Program. This helps us organize the students who are in this program and the needed follow-ups through the summer.
There will be no employment tax forms. You are a volunteer not an employee.
SUMMER REQUIREMENTS
FUNDRAISING LETTERS: If you choose to participate you will need to send at least twenty-five financial partnership letters. We have a template you can use to make the process easier. You will give a list of these twenty-five supporters to the CEF Northshore office via an online form. This is required.
WEEKLY TIMESHEETS: When you complete a 5DC, you will turn in a form to CEF Northshore (email can be found on the time sheet itself). Once turned in and approved, you will receive an hourly rate subject to the minimum wage laws or larger depending on the amount collected.
THANK YOU LETTERS: At the end of the summer, we ask you to send out another letter to the same group of individuals you sent your financial partnership letters to. These letters are thank-you letters and a chance for you to tell your prayer and financial partners about what the Lord did through your summer. Again, a template will be provided for you to use in giving these reports to make the process easier.
MORE QUESTIONS? For more information, please contact Natalie Beam, CYIA Coordinator, cefnorthshore@gmail.com or text (985)703-1487.
© COPYRIGHT CEF NORTHSHORE